December and January are exciting months in the Elfin Forest, with winter rains beginning our major flowering season for the new year and bird life at maximum diversity and populations.
Our area is known as one of the top birding locales in our nation, especially in winter. That's why the Morro Bay Winter Bird Festival is held on Martin Luther King Weekend each year. It attracts hundreds of visitors from all over the U.S. and Canada, even some from overseas. The 2022 festival features 160 events over 5 days including workshops and major evening lectures in Morro Bay, as well as a great many bus and auto field trips to far corners of our county, and boating tours on our estuary, the ocean, and nearby lakes. Check their website for the January 13-17, 2022 festival at facebook.com/MBWBF.
Virtually all species of water birds and wading birds listed on our website, elfin-forest.org under Flora and Fauna, are present in December and January. From Bush Lupine Point or Siena's View look for American White Pelicans and Canada and Brant Geese. Western and Clark's Grebes, featured in my article on page 4 of Oakleaves, should be easy to recognize swimming together with their heads topping tall S-shaped necks. Dabbling Ducks also common are Northern Pintails, American Wigeons, Northern Shovelers and Blue-winged, Cinnamon, and Green-winged Teal. Diving ducks typically seen include Greater and Lesser Scaup, Buffleheads, and Ruddy Ducks. Wading birds fishing for their next meal near the shores could include Great and Snowy Egrets, American Avocets, or perhaps a Great Blue Heron.
All the raptors listed on our website and a great many of the passerines are also present in midwinter. Watch the shrubs around the boardwalk for flitting Finches, Sparrows, Gnatcatchers, Wrens, Phoebes, Chickadees, Bushtits, Nuthatches, and other little brown and little grey birds. Larger common birds of the brush are Thrashers, Towhees, Scrub Jays, and Quail.
Unlike most of our nation, December and January in our Elfin Forest normally present lots of colorfully blooming shrubs and herbs. Hopefully the rain we had in late October will trigger our shrubs into bloom before 2021 ends. Buckbrush Ceanothus (in the California Lilac genus), should soon nearly surround the boardwalk with its white to lavender flowers. In more protected areas of the lower boardwalk is Morro Manzanita, found only along the coast between Montaña de Oro and Morro Bay State Parks. Its tiny bell-shaped flowers are white with a pinkish blush. Fuchsia-flowered gooseberries should also be opening, with their many long red trumpets providing lots of nectar to the long bills of Anna's Hummingbirds.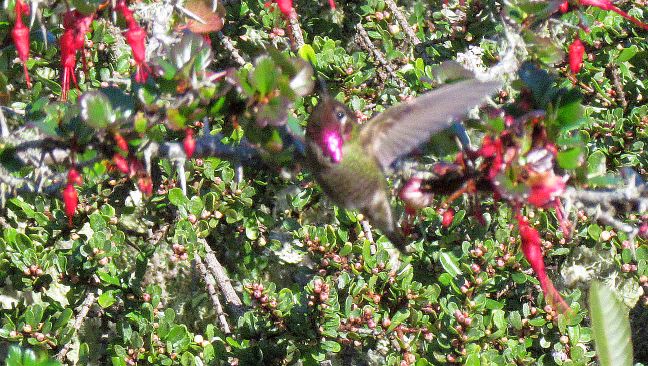 Anna's Hummingbird
Perhaps by Christmas and surely by the end of January, California peonies (featured in his page 5 article by Professor Dirk Walters and pictured here in my photo) will be opening their drooping red balls of flowers among their large bright green leaves in the understory. Look for them especially near Siena's View and along the 11th Street sand trail. Other understory plants likely to be in bloom are the white to pink or lilac rays of asters surrounding their golden disk flowers, the yellow and gold of early California poppies, and white clusters of flowers atop green stems on California everlastings.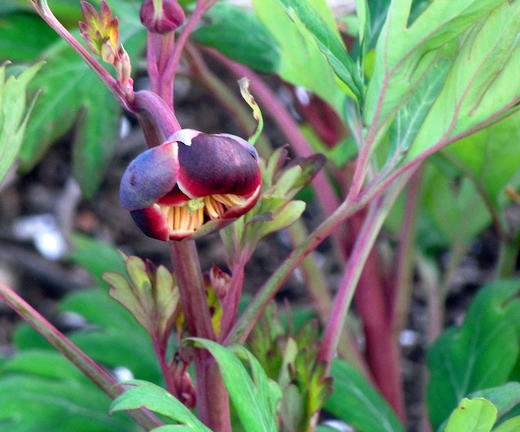 California Peonies
Take a break from holiday shopping madness and walk in the Elfin Forest that we protect through our generous donations and active volunteer efforts.