&nbsp
The Elfin Forest
The El Moro Elfin Forest Natural Area is about 90 acres in size and located in Los Osos on the southeastern shore of Morro Bay. The name "Elfin Forest" comes from the short stature of the California Live Oaks, which grow as tall as 50 feet elsewhere in Los Osos. Here they are stunted by the local environment and, despite being centuries old, range from a high of 20 feet in sheltered areas to a low of 4 feet near the tallest ridge line.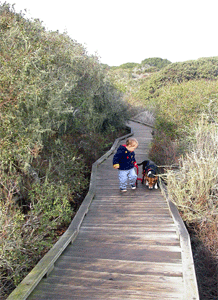 Boardwalk in Elfin Forest
The Elfin Forest is an area where many of the natural habitats of the greater Morro Bay area exist in one location with easy access. Many of the area's terrestrial plants and animals can be seen here.
In this compact preserve you can see 8 distinct environment types:
Coastal Dune Scrub
Maritime Chaparral
Coastal Live Oak Woodland
Oak/Manzanita Complex
Riparian Woodland
Brackish Water Marsh
Coastal Salt Marsh
And if the tide is in Estuary Waters and if its out Estuary Mud
Each if these has it's own cast of flora and fauna.
The green buttons below will take to more detailed information about the Forest: